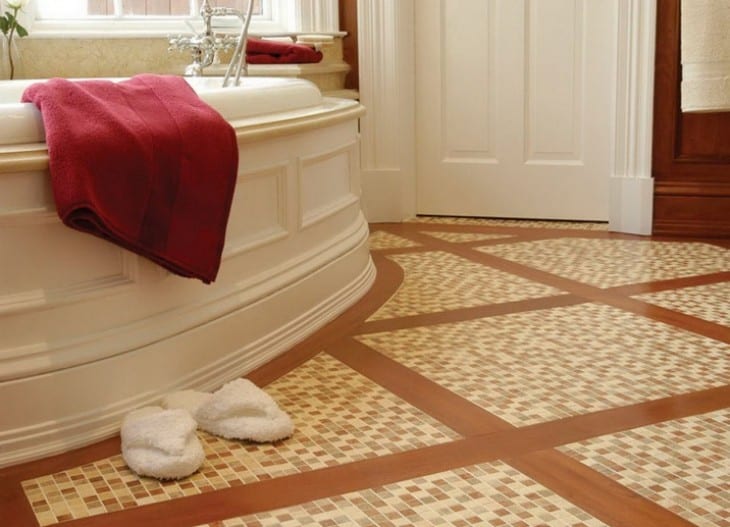 Stone tile bathroom floors have a natural beauty at the same time as being a particularly good practical choice for the bathroom.
Whilst they may require a higher initial investment than some other options they are a very affordable option that makes good economic sense in the long run.
What are Stone Tiles made of?
Stone tiles come in a wide variety of different natural stones. Some of the more commonly used types are marble, granite, slate, flagstone, onyx, limestone and quartzite.
And nature didn't short change us for style and color options – that's for sure! There are endless choices of colors and styles – all designed by nature itself.
What are Benefits of Stone Tile Flooring
You can't fake nature. You really can't replicate the deep colors and patterns provided in these stones. Stone flooring really is the most stylish and elegant option for your bathroom (amongst other places). So why else would you choose stone tile flooring?
Easy to maintain – when sealed properly natural stone is very easy to clean and maintain
Stone tiles come in various sizes to allow scope for design
Available in the most breath taking colors and patterns
Durable – hard wearing and long lasting. Might be more expensive initially than other tile flooring types but their long lifespan means that they will long outlast the others and prove more affordable in the long run
Unique – no two stones have exactly the same look
Timeless – natural stone will never go out of fashion
Will add value to your home – due to all of the benefits above stone tiles are valuable and sort after. They will add class and value to your home.
Why Stone Tile Flooring is the Ideal Option for Your Bathroom
In addition to the benefits above stone tile floors are a great option for the bathroom in particular.
Warmth: Though some may think of stones as being cold underfoot this is only true because stones are a good conductor of heat (or lack thereof). Stone tiles go perfectly with under-floor heating as they are a great conductor of that heat. You'll appreciate that heat under your feet on those cold winter mornings.
Waterproofing: Of course, probably the most important factor for a bathroom floor is how well it will stack up against moisture. Fortunately, when properly sealed stone tiles are ideal for this purpose.
Stone Tile Floor Installation
At LLB Flooring we offer high quality professional installation services at affordable prices. In fact, we guarantee the lowest prices around. Contact us today to further discuss your options or to arrange a quote.